---
DJ Code Red / International DJ
One of the finest 80's Dee Jays in Barbados DJ Code Red. Born Pedro C Edwards from St Michael Barbados in 1964, son of businessman and thoroughbred racehorse owner Cycil Edwards, was the first DJ to create a three genre nightspot in the island.
A nightspot consisting of three areas playing music: reggae, soca, and soul. At age 25, DJ Code Red was discovered by Steven Oliviere, owner of Sentry Insurance. He subsequently went on to [reform at Carlisle Bay under the auspices of Robin Walcott, Rachel's Night Spot under manager Rodney Jones, Harbour Lights with Jonathan Simpson, Raymond Gill, and Martin Bynoe, the Coach House Pub owned by Chris McHale and the famous club strip St Lawrence Gap, housing the Ship Inn and McBride's night spots respectively.
After a stint on the hotel circuit, DJ Code Red was invited to the United Kingdom to play at London's celebrity nightspot, China White. On return to Barbados, he gained a regular slot at the newly opened Carib Beach Bar, building its reputation as a fun place to be for tourists and locals alike. Attracting a 400 strong crowd at its height every Sunday.
He became the go-to DJ for beach mega-parties (playing for an 8-hour stretch) gaining the attention from marketing sponsors Stokes and Bynoe. DJ Code Red became synonymous with Carib Beer. DJ Code Red was the first DJ in the island to develop a strong fan base without any radio airplay. He was part of the first generation of Barbadian DJ's to penetrate the formidable Trinidadian party scene.
He was the focus of the DJ spotlight, as he toured with international music artiste Rupee.2017, DJ Code Red's fan span United Kingdom, USA, Kenya, Trinidad, and India.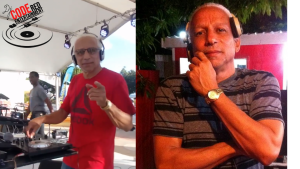 coderedandthefirstladysandrag@gmail.com www.sandragcorbin.com.
Gallery
---
My Favourite Quote
"Not how long, but how well you have lived is the main thing." ~ Seneca
---